Relentless Change → Build Agility
Learn skillful ways to manage fear and uncertainty, display confidence and create stability for your employees.
Quick agile responses are needed in a competitive and unpredictable environment. The most successful leaders know when to be more enabling and collaborative, and when to be more directive in guiding their people and processes. They are comfortable in the strategic arena, but can appropriately dip into the day-to-day operations when necessary. This capability for versatile leadership can transform you from a good manager into a true leader. This means instilling confidence, reducing complexity and responding with agility and creativity. Leaders who do best in these situations also constructively work through their own emotions, and act with a clear mind and a strong heart.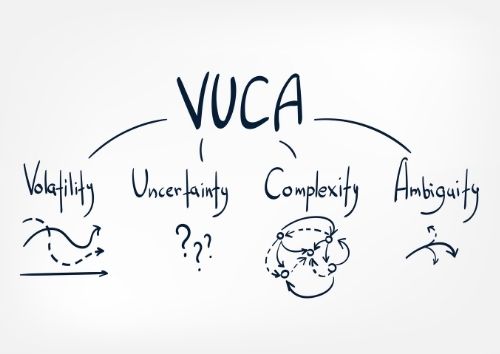 Using a powerful and well-researched leadership development assessment, The Integrative Enneagram, we will uncover how your own levels of emotional intelligence and strategic thinking either help or hinder your capacity to lead in critical moments. We can also use the Leadership Versatility Index, an extremely powerful 360 assessment tool that measures opposing but complementary behaviors required for agile leadership, especially under volatile and unpredictable conditions. Learn what leader behaviors you do too much of and what you do too little of from the perspective of your managers, peers and direct reports. You'll learn how to help yourself, and others, to take wise action in the face of constant change and upheaval.
4-8 month individualized, goal-driven, one-on-one coaching program
OUTCOMES TYPICALLY GAINED:
(all goals are tailored to individual aspirations and needs)
Reconditioned habits for responding productively and well to your own and others' fear of uncertainty and ambiguity
Tools and skills to build shared understanding of complex situations from multiple stakeholders' points of view in order to collaborate effectively
Ways to prioritize the critical few tasks by breaking down complicated problems or concepts into clear and manageable components in order to take wise action
Find out if these outcomes fit your needs. SCHEDULE A FREE STRATEGY SESSION:
"*" indicates required fields
Not what you were looking for? See other Solutions:
Receive Leadership Tips and Updates
Directly to Your Inbox
Contact StillMind
Don't hesitate to reach out with any questions. We look forward to hearing from you, and returning your inquiry in a timely manner.
"*" indicates required fields